8 Best Sleep Books to Help You Sleep Better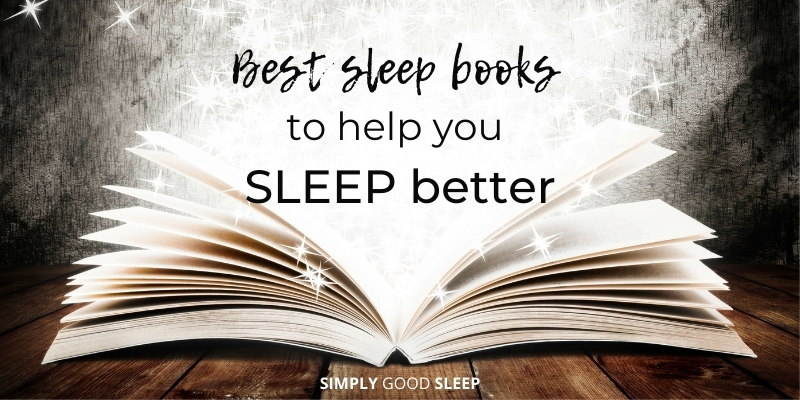 Sleep makes up one third of our lives, and it impacts a lot on how we live, function, and perform when we are awake. Sleep is as important as the food we eat, and the air we breathe. Nearly 45 percent of the global population suffers from sleep-related issues, making it a global epidemic. It threatens physical health and adversely affects mental health, directly impacting one's overall quality of life. Whether it is sleeping too little, sleeping too much, or waking up during the night that result in interrupted sleep, we can all improve our sleep. Here are 8 best sleep books to help you sleep better.
We may receive a small referral fee, at no cost to you, if you purchase through our links. Details here.
Written by UC Berkeley's Professor Matthew Walker, this book helps you understand the basic concepts about sleep and its lifecycle as we age. It answers some of the common questions about sleep like – Why do we sleep? How does alcohol or caffeine affect sleep patterns?
Based on his many years of experience, clinical practice, and research, Dr. Walker offers deep insight into how sleep can improve quality of life, enhance immunity, keep diseases at bay, and increase lifespan.
'Why We Sleep' Book by Matthew Walker, PhD can be purchased online
Dr. Seuss is one of the legendary authors of children's books and has been loved for generations by both children and adults.
This book is designed to put children to sleep within minutes, and it does so brilliantly. With so much yawning across the book, you'll be snoring before you can get to the end of the book! In fact, if you're reading this book to your child, there's a good chance you might doze off before the little one!
Dr. Seuss's Sleep Book can be purchased online
Leading experts on baby feeding patterns and sleep, Dr. Robert Bucknam, M.D., and Gary Ezzo, M.A. have co-authored this remarkable book on how to help newborns and children sleep peacefully.
This book has reached over six million parents. Translated into 20 languages across the globe, this book has been the go-to niche leader for over three decades.
This book guides parents on how to deal with baby sleeping problems. In addition, it elaborately discusses how to take care of mother and newborn, monitor baby's growth, and achieve baby growth's milestones. Also, the book explains do's and dont's, and many others aspects of baby's growth and development.
'On Becoming Babywise: Giving Your Infant the Gift of Nighttime Sleep' Book by Robert Bucknam, MD and Gary Ezzo, MA can be purchased online
In this book, Shawn Stevenson has narrated his life experiences of how he reclaimed back his life and health through proper nutrition and sleep cycle. Also, this book teaches you tips and techniques to complete his famous' 14-Day Sleep Makeover.'
This book not only assures better sleep and health but also helps you stay active, disease-free and reduce stress.
'Sleep Smarter: 21 Essential Strategies to Sleep Your Way to a Better Body, Better Health, and Bigger Success' Book by Shawn Stevenson can be purchased online
Casper co-founder Neil Parikh and renowned sleep expert Frank Lipman, MD co-authored this book. The book not only gives you insightful advice but does so through science-backed evidence, clinical studies, and case studies.
The best part is that this book deals with you as an individual and doesn't just provide a one-size-fits-all approach.
The book helps you ascertain and understand your sleep patterns, nutrition, lifestyle habits, stress levels, etc.
In addition, it helps you craft a practical solution to enjoy a better sleeping cycle that aligns with your lifestyle perfectly.
'Better Sleep, Better You' Book by Frank Lipman, MD and Neil Parikh can be purchased online
This book, written by Renata Alexandre Ph.D., is one of the most revered books about sleep. If you've been victim to anxiety or stress-induced insomnia for years or have been suffering from chronic sleep disruption for a long time, The Sleep Workbook is what you're looking for.
The book guides you step-by-step in an easy-to-understand format to help you identify the root cause of your sleep disorder. Also, it helps you make actionable changes in your thinking pattern, reduce anxiety, and get rid of detrimental habits that stand in the way of a good night's sleep.
This book uses CBT-I or Cognitive Behavioral Therapy for Insomnia to address sleep disorders and disruptions, which helps in drastic improvement in more than 80 percent of the cases.
'The Sleep Workbook: Easy Strategies to Break the Anxiety-Insomnia Cycle' Book by Renata Alexandre, PhD can be purchased online
Psychologist Dr. Nicole Moshfegh authors this famous book about sleep. The Book of Sleep offers time-tested, clinically tried, and CBT-I (Cognitive Behavioral Therapy for Insomnia) based techniques to help you sleep peacefully and wake up well-rested.
This book tells you what you're doing wrong, what you should do, and how to track your sleep patterns. Moreover, it helps you identify the root cause of sleep disorders, and strategies that can help lengthen REM sleep duration significantly.
Following the techniques and strategies in this book will definitely prove to be life-changing.
'The Book of Sleep: 75 Strategies to Relieve Insomnia' Book by Dr. Nicole Moshfegh can be purchased online 
Arianna Huffington, editor-in-chief and co-founder of Huffington Post, is the author of this New York Times Bestseller.
The Sleep Revolution emphasizes how the modern lifestyle has led to the sleep disorder epidemic, especially among adults.
It reminds the readers that depriving sleep makes us less productive and energetic. Also, it highlights the negative impacts that sleep deprivation has on our personal and professional lives in ways more than one can imagine.
This book discusses the history of sleep, the author's personal experiences and experiments with sleep, the impact of technology on sleep, and techniques to help readers get restorative sleep.
The different chapters in this book share elaborate details on how every aspect of our life and health is connected to sleep. Also, it highlights how following sleep science can positively influence our thoughts, energy, health, and life.
In fact, this book basically creates a roadmap for you to get rid of factors preventing you from getting good sleep so you can wake up feeling rested and refreshed every day.
'The Sleep Revolution: Transforming Your Life, One Night at a Time' Book by Arianna Huffington can be purchased online
Final Words
So, if you've been struggling with aligning your sleep cycle with your work schedule, suffer from insomnia or anxiety, experience frequent nightmares, or have trouble falling asleep, the list of books about sleep mentioned above will hep you.
These sleep books are written by some of the top authors. These books can help you transform your life positively by reshaping your health through better sleep and optimal rest.
Other articles that you may find interesting
Sleep Basics – Learn About Sleep
Buying Guides
Other Interesting Sleep Topics