Japandi Style Bedroom for Better Sleep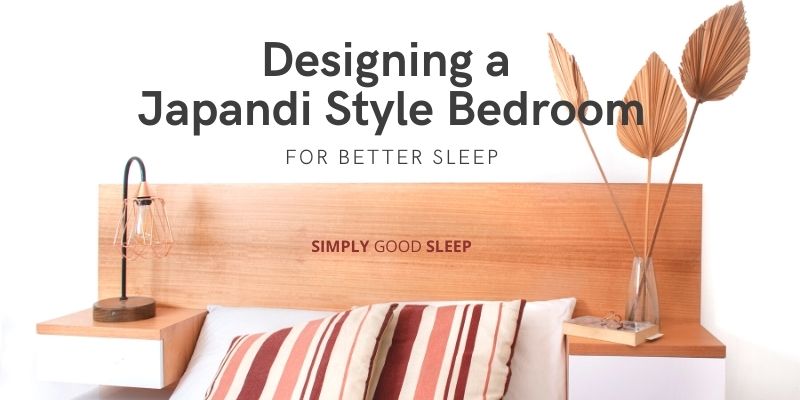 Life often proves to be the proverbial straw that breaks the camel's back. With so many demands on our time, sometimes it's difficult to find the time to simply wind down and relax.
A relaxed sleep is all we really need to wake up refreshed and ready to take on the world again. But with so many new stressors in our lives, it can be difficult to relax. That's why we're calling for a revolution in bedroom design.
A Japandi style bedroom can help you overcome the stresses of life and drift into a deep and peaceful sleep.
What Is Japandi?
Japandi, which seamlessly blends Japanese & Scandinavian, is a new modern, clean and minimalistic lifestyle trend that is quickly taking the design world by storm.
It may seem odd to some enthusiasts that Scandinavian design would be combined with Japanese design. But the two styles are quite similar in terms of holistic philosophies and themes. Both are minimalist and focus on stylish functionality and space efficiency.
Scandinavian design values natural materials like wood and natural lighting. Japanese design focuses on uncluttered spaces that utilize dark woods and elegant lacquer finishes, as well as feng shui principles like symmetry, balance, and flow.
When brought together, the two styles create a stunning, minimalistic look that is both relaxing and functional.
What Characterizes Japandi?
Japandi is a Scandinavian-inspired style combined with the layering, softness, and color schemes of Japanese design.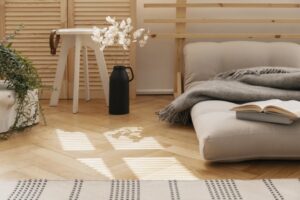 Boasting crisp lines and contemporary finishes, Japandi features a focus on minimalism and simplicity.
It features open walls, open furniture, and natural finishes and is a form of Japanese style that incorporates modern Scandinavian design into the aesthetic.
By allowing both styles to meld together, the Japandi style creates a unified aesthetic that is elegant and harmonious.
Why the Japandi Trend?
Modern, working, busy lives revolve around complex schedules and long hours at the office.
Japandi style is ideal for people who want to get rid of the stresses of the modern world and find a more calming way to live.
With its minimalist and versatile look, the Japandi style can be used in any bedroom to create a more peaceful environment that is sure to help the soul and induce sleep.
7 Tips to Creating a Japandi Style Bedroom
The bedroom is the heart of our lives. It's the place where we escape from the stresses of our day. It's also the place where we can be calm and reflective, and where we can indulge in some quality sleep.
Unfortunately, in today's society, we live in an age of stress and workaholism where we hardly have any time to breathe, let alone care for our bedroom's design.
But, if you're looking for a way to relax and make your bedroom a sanctuary, here are seven tips on how to create a Japandi Style Bedroom.
1. Clean Visuals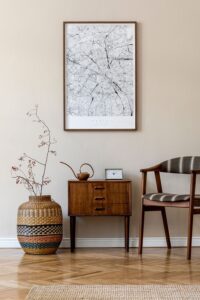 Minimalism is what defines the Japandi design style. It also relies on a clean and minimalistic look to project the image of relaxation and calm.
When it comes to decorating your bedroom, keep in mind that every little detail counts.
Avoid overstuffing your room with too many distracting elements. This will be counterproductive in creating a calming atmosphere.
Instead, create a safe and relaxing bedroom through soft, muted colors and a relaxing atmosphere.
2. Textures
Subtle, soft, muted textures and colors are another staple of Japandi.
The combination of dark, natural tones with a high level of softness and smoothness creates an atmosphere of relaxation that is effortless and calming.
3. Create Contrast
Creating contrast in your room will help you establish the calm, elegant, and relaxing atmosphere you are looking for.
Use contrast as a way to break up cluttered rooms by using bright colors and bold patterns and styles in a coordinated way.
Contrasting patterns can help you create the illusion of higher ceilings and expand on your room's visual appeal.
4. Design for Flow
Flow is another concept that is essential to creating a relaxing atmosphere.
The Japandi style is all about creating a flow from one area to another.
For example, open windows and different design elements, can help create the illusion of a soaring ceiling, open space, and a harmonious way of life.
5. Consider Using Organic and Natural Materials
Japanese design is all about natural materials and their warm look.
Many natural materials are soft, smooth, and work well for creating a calming atmosphere.
For example, browns, greens, ochers, and tans are often used to create the Japandi style.
Consider investing in wooden furniture and use natural fabrics, like linen, cotton, wool, and bamboo.
6. Add Japandi Style with Low Profile Furniture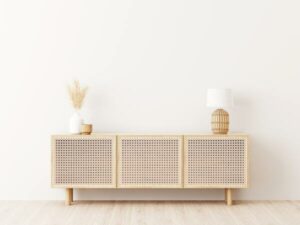 When it's about styling, furniture with low profiles and straight lines works better.
Clean lines and soft, curvy finishes can make a striking statement in a minimalist way.
Think sleek, elegant, and modern instead of sleek, imposing, and straight.
7. Flooring
Hardwood, stone, and other natural materials work well for a Japandi style look.
When you choose natural materials for the flooring, you will create a sense of nature and harmony in your room.
But remember that the flooring should still complement the rest of the room and not be overbearing.
Conclusion
Japandi style is taking over the world, and for a good reason.
The combination of simple, minimalist designs with the intricacies of Japanese design creates a harmonious and beautiful style that is calming and subtle.
Consider creating a Japandi style bedroom (and home) to enjoy a more relaxing and peaceful way of life and better sleep.