How to Buy the Best Weighted Blanket for Sleep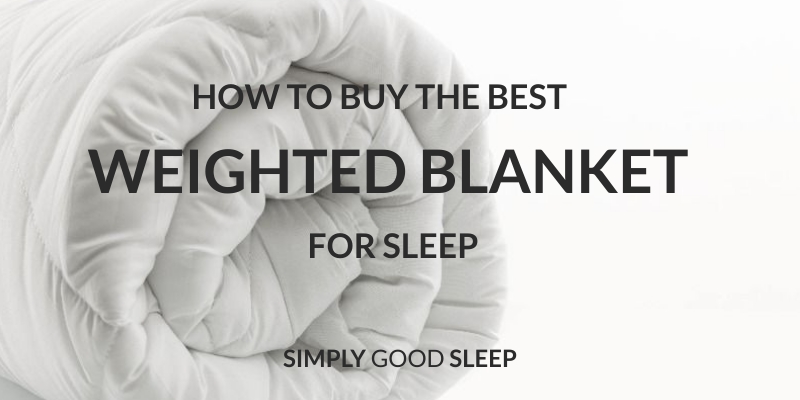 Recently more and more people started to use weighted blankets. Many people tout the benefits of weighted blankets for their ability to help manage stress and anxiety, and their potential as a sleep aid. When you are stressed, anxious, or tired, there is nothing better than a good hug to calm you down. The weighted blanket does exactly that.
As great as they are, weighted blankets may not be inexpensive. It's good to know that you're getting the best weighted blanket for sleep so you know the investment is worth it. Here's what to look for when you are thinking to buy the best weighted blanket for sleep, for yourself or for a loved one:
What are Weighted Blankets?
Weighted blankets: these are therapeutic blankets and weigh between 5 to 30 pounds. This extra weight puts a pressure that follows therapeutic techniques called "deep pressure stimulation" and/or "deep touch pressure". These are the terms for the pressure that spreads evenly and gently all over the body to release the stress and calm the nervous system.
Feel awkward by asking your partner to swaddle you every night? Well, a weighted blanket might work for you as a form of a massage or a hug!
Medical Conditions that Might Benefit from Weighted Blankets
Weighted blankets can assist children and adults with medical conditions — anxiety, stress, insomnia, sensory processing disorders, Asperger's syndrome, autism, ADHD, or other medical conditions — attain a sense of peace and calm.
Weighted blankets can offer them a safe, warm, comforting, and calming retreat from a world that may be full of too much intense stimuli at once.
Benefits of Sleeping with a Weighted Blanket
Here are some advantages that a weighted blanket has to offer:
Helps treat insomnia
A study published in the Journal of Sleep Medicine and Disorders in 2015 included 31 participants with insomnia. Their sleeping patterns with and without a weighted blanket were tracked. Individuals seemed to like these blankets and got better sleep and felt refreshed after using it.
Helps melt away stress and anxiety
A study tested 32 adult volunteers who used a 30-pound blanket for 5 minutes.  63% stated lower stress and anxiety after using it.
May increases serotonin
Deep pressure stimulation can increase serotonin, which is a neurotransmitter known to put a calming effect on the body and help regulate sleep. Also, this soothing pressure stimulates the body to produce oxytocin which boosts the immune system by relieving pain and stress.
Helps reduce restlessness
The calming effect of the pressure techniques of weighed blankets has helped reduce tossing and turning throughout the night. A 2015 study found weighted blankets reduced the disruptive movements of restlessness and insomnia.
How Much Should a Weighted Blanket Weigh?
First things first, you need to think about how heavy the blanket should be. The general rule of thumb for weighted blankets is that you should get one that is 10% of your total body weight. If you weigh 200 pounds, for example, then you want a blanket that weighs 20 pounds.
Weighted blankets for adults generally come in 10, 15, 20, or 25 pounds. Weighted blankets for kids are much lighter and are available from 5 pounds. If you can't find one that is exactly 10% of your body weight – if you weigh 220 pounds for example – then it's better to size up and not down.
| Body Weight | Blanket Weight |
| --- | --- |
| 100 - 120 lbs | 10 - 12 lbs |
| 120 - 140 lbs | 12 - 14 lbs |
| 140 - 160 lbs | 14 - 16 lbs |
| 160 - 180 lbs | 16 - 18 lbs |
| 180 - 200 lbs | 18 - 20 lbs |
Plastic Pellets or Glass Beads?
Manufacturers generally use micro glass beads or plastic pellets to add the extra weight to their blankets. Micro glass beads are around the size of a grain of sand and are a bit heavier than plastic. They also take up less room in the blanket so the blanket is thinner and feels softer and less bulky.
Plastic pellets take up more room and so blankets filled with them feel bulkier. With that said, there's no obvious "better" choice. Some companies – and buyers – go with plastic because it's cheaper.
You may also find a blanket that has a kind of polyester fiberfill like that is found in comforters. These blankets are warmer. If you want a more breathable blanket, you should avoid fiberfill.
Weighted Blanket Removable Covers
It can be difficult to wash a weighted blanket because they are heavier than the average blanket. You will need a commercial washer and dryer for blankets over 10 pounds.
If you have pets or are worried that the blanket might get stained then you should choose one that has a removable cover. These covers can come in cotton and mink and are much easier to wash and dry than the blanket itself.
Cotton is the most breathable and cool option, while mink offers more comfort and coziness. Check to see if the cover is included with the blanket or if you'll have to pay extra for it.
How Big Should a Weighted Blanket Be?
A weighted blanket should be big enough to cover your whole body from the neck down, but it shouldn't be so big that there's too much spare room. Most people will want to stick with a twin-size blanket.
Be sure to choose a child's weighted blanket if buying for children. They are designed with kids in size and are smaller and weigh less.
Another consideration is that the blanket shouldn't go over the sides of the bed if you plan on sleeping under it. It may fall off of the bed during the night if it hangs over the sides of the bed.
If you aren't sure what size to get, then go with the size of your mattress. If you have a full bed then go for a twin-size weighted blanket. If you have a king-size bed, then get a queen-sized weighted blanket.
When Should you NOT use a Weighted Blanket
While a weighted blanket may be a great comfort for anxiety, there are certain circumstances where using a weighted blanket is not advised:
when you have respiratory problems, such as asthma or sleep apnea
do not use a weighted blanket for children less than 3 years old or weighing less than 50 lbs due to risk of suffocation; supervision is advised for children under 6 years old
adult or child physically challenged to remove their blanket independently
when you have claustrophobia
suffering from chronic illnesses, such as diabetes or blood pressure
sensitive and fragile skins
open wounds and rashes to prevent worsening of the condition
When in doubt, discuss with your doctor about using a weighted blanket.
How To Care for Weighted Blankets
You'll want to take care of your weighted blanket to ensure long use out of it. Wash your weighted blanket two to three times per year.  Don't wash more frequently than this.
Frequent washing can damage the filler and decrease the lifespan of your weighted blanket. Air your weighted blanket often to prevent bacteria and spot clean as needed. You can also buy a duvet cover or, even purchase weighted blankets that come with one.
Follow care instructions that come with the weighted blanket or contact the manufacturer.
Where To Buy Weighted Blankets
This post contains affiliate links. Read disclosure here.
Many quality weighted blankets are sold online. It can be difficult to try one before you buy it. Weighted blankets are not inexpensive. A quality weighted blanket may cost around $200.
Double check the weight options for the blanket and stick to a trusted retailer to make sure you get the blanket you want at the weight you need.
There are many companies specializing in weighted blankets, one of which include:
Gravity Weighted Blankets comes in 3 amazing colors, perfect for any bedroom decor — navy, grey, or white — in sizes 15 lbs, 20 lbs, and 25 lbs. Gravity weighted blankets contain fine-grade glass beads and come with premium, super soft, easy-to-clean, micro-plush duvet covers.
Conclusion
The most important factors when choosing a weighted blanket are the size and weight. Try to find a weighted blanket that is one size smaller than your mattress and weighs around 10% of your body weight. Get a removable cover for the blanket if you're worried about it getting dirty or stained.
There it is – the whole crux of getting yourself under a weighted blanket to enhance the quality of your sleep. Weighted blankets might be an expensive investment but, on the other hand, see it as priceless possibility to get a good quality sleep!
If you have a medical condition, please consult a doctor before using a weighted blanket.