Wheelchair Accessible Bedroom Design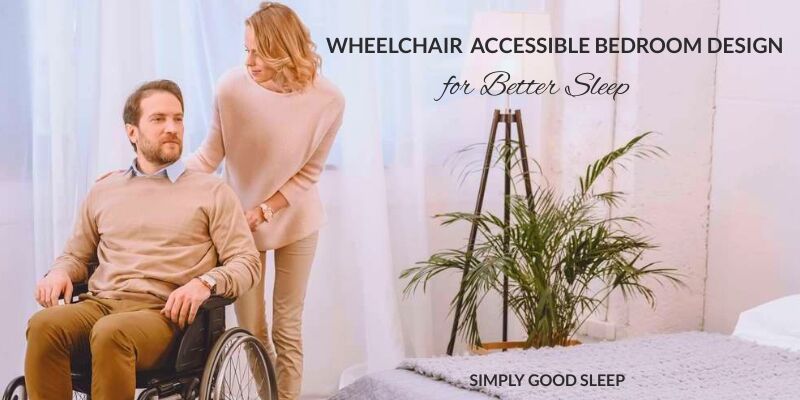 Coming up with a wheelchair accessible bedroom design for disabled people is somewhat of a challenge. While public and commercial properties have to follow a set of guidelines for accessibility, it's hard to incorporate them in private properties, like your home.
If you or any of your family member is physically disabled and have difficulty sleeping, this guide will provide ideas and tips for wheelchair accessible bedroom design to help you or your loved one sleep well at night.

Wheelchair Accessible Bedroom Layout
The first order of business when designing an accessible bedroom is to design the layout. The layout plays a very important role in creating the perfect environment for a good night's sleep. The room should allow plenty of air inside to keep it well ventilated.
When you think about an ideal accessible bedroom, you have to consider the furniture, doors, flooring, and all other aspects of a house too. It might seem unlikely, but all of these aspects do contribute to helping the disabled person sleep well at night.
The Entry
A sound sleep starts with the peace of mind. Now, it's hard for a disabled person to achieve that peace if he/she has to constantly struggle to get in and out of their bedroom.
The doorway has to be wide enough to enter with a wheelchair. We are taking a wheelchair as the standard because the most common helping tool for a disabled person is often a wheelchair.
The doorway should be at least 32 inches wide in order to give the person easy access. It's best that the area that leads to the door is straight. If not, you might have to widen the doorway a little more, up to 36 inches.
As for the door itself, regular doors work just fine. You can even go with no doors at all. But if you do install a door, make sure that there's a lever handle instead of a doorknob. Levers are easier to open and reduces the risk of accidental locking. With all these worries eliminated, there's a pretty good chance anyone would sleep peacefully.
Location of the Wheelchair Accessible Bedroom
A very important thing to consider while designing an accessible bedroom is the location of the room inside the house. If the house is a multi-storied one, it's convenient if the room is on the ground floor. No matter how carefully you design the room, if access to the room is not convenient, it all goes to vain.
The accessible bedroom position should be determined by a professional. You can seek help from an architect who has experience in designing accessible bedrooms. A physical therapist or and/or an occupational therapist should also be present in order to verify the resident's particular needs.
If there's no bedroom on the ground floor, look for ways to make one. If this is not possible, ramps, stair-lifts or the more expensive home elevator may be possible options. The aforementioned architect will be equipped with plans to accommodate the customizations. The accessible bedroom location plays a huge part in helping the resident sleep better. It should not be ignored.
Lighting in a Wheelchair Accessible Bedroom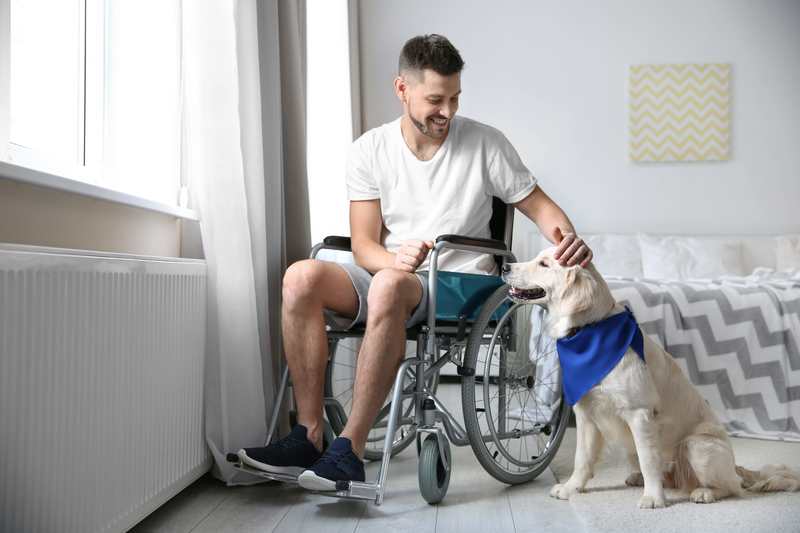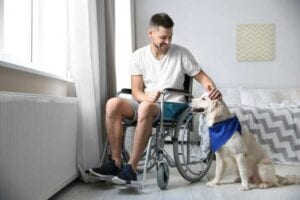 No matter how hard you try, artificial lightning isn't going to cut it for natural light. Natural light is very important to keep the mind fresh and joyful which ultimately results in better sleep at night.
Make sure that the room has one or more windows to let the light in. If the weather allows for it, keep the windows open. The air can change our mood drastically. A fresh breath of air can improve your mood, relax you, and make you sleep better.
If possible, use existing technology to make the experience even better. It's pretty straightforward and easy to install motorized windows controlled by a remote. This way, the disabled person can control the windows anytime he/she wants.
Wheelchair Accessible Bedroom Toilet
The toilet is a crucial part of our lives. Disabled persons need to use the toilet at similar frequencies as the fortunate ones. So, it's crucial that you focus on making the bathroom as accessible as the bedroom itself. The bathroom should preferably adjoin or be part of the accessible bedroom.
The type of an accessible bedroom toilet depends on the particular disability. An occupational therapist can draw the details required to design an accessible bathroom. Some basic features include enough space for turning radius, properly placed grab-rail, etc.

Wheelchair Accessible Bedroom Furniture
The right furniture can make a room comfortable while the wrong choices can make it a nightmare for the disabled person. A good rule of thumb is to never put any furniture in an accessible bedroom that might create an obstruction.
A de-cluttered and well-arranged bedroom is important to a disabled person's safety and well-being. There should be a lot of open space of at least 3 feet around the bed for comfortable maneuver of wheelchair to and away from the bed.
Keep in the accessible bedroom only those items that are the most meaningful to the disabled person, and that he/she would enjoy using or seeing every day.
Install lower shelves. Dressers should be lower, and longer, with drawers that are easy to open. The height of the bed should be what is comfortable for the disabled individual. It can be about 22 inches off the floor, using 19 inches as the standard height for a wheelchair.
It's always advisable to put furniture according to the accessible bedroom size. The room should look and feel proportionate to be comfortable.
Another important aspect is the grab-rails. We can't emphasize enough on the importance of having enough grab-rails. So, if you think a grab-rail can go somewhere, we suggest you install it there. No need to think twice. You never know which one comes handy for the person.
There is plenty of furniture that are infused with technology to help disabled people sleep better. You can consider them as well when designing an accessible bedroom layout. An electric adjustable bed or a smart bed, for example, can add new dimensions to comfort.
Bedroom decor articles you may be interested in:
Declutter your bedroom for better sleep
Tidy the KonMari Way for Better Sleep
12 Best Bedroom Plants for Better Sleep
What are Smart Mattresses & Smart Beds?
How Technology Can Help You Sleep Better
Wheelchair Accessible Bedroom Flooring
When designing a wheelchair accessible bedroom flooring, consider flooring options that are durable, easy to maintain, promotes the best safety and maneuverability. Hardwood flooring, vinyl plans or tiles, non-skid, textured tile floorings are possible options. Rugs may not be good choices for safety and mobility reasons. If carpeted flooring is desired, opt for low pile carpeting, such as Berber.
Wheelchair Accessible Bedroom Switches
The placement of switches in the room is a very important thing to consider. The switchboard should be at such a height where anyone can access it. The switches shouldn't be in any particular corner. There should be enough space around it.
It's best if you can mobilize every connection inside the room. There are remote-controlled switchboards readily available. They're easy to install and offers great value for money. If the disabled person needs to control any of the appliances at night, he/she doesn't have to leave the bed. It's a particular peace of mind which is crucial for better sleep.

Takeaway
A wheelchair accessible bedroom design in a home is a must if you have someone who is physically disabled with reduced mobility and suffers from sleeping anxiety. Keeping these few pointers in mind, a wheelchair accessible bedroom design is made easier!