Bring home a Puffy Lux Mattress!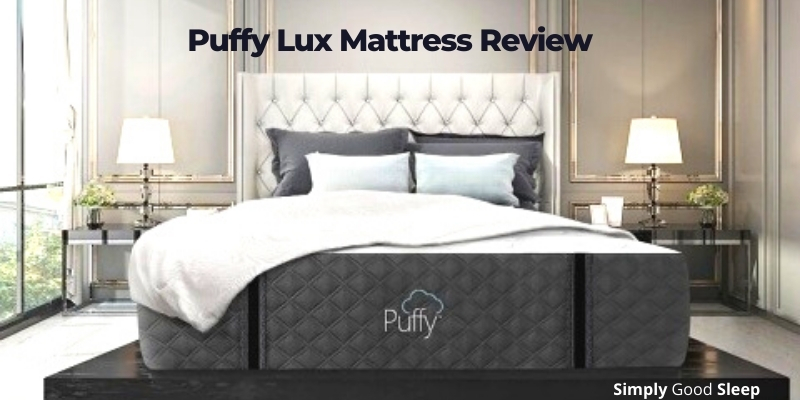 Welcome to our Puffy Lux Mattress review. Sleep is essential to sustaining our physical and mental health. It helps to regulate metabolism, blood pressure, and heart rate. It also plays a crucial role in memory retention and brain function. In fact, research has linked a lack of sleep to mood swings and depression that can last for months if you don't catch up on your zzzs. For this reason alone, you should be sleeping 7 to 9 hours every night!
But one crucial aspect of proper, restful sleep is a quality mattress. Responsible for supporting, comforting, and grounding your body, it is the foundation for your night's rest. Bringing you much-needed comfort and support, Puffy Lux Mattress is your key to blissful nights of sleep. In this Puffy Lux Mattress review, we will discuss its features, benefits, and considerations to help you make the right decision.
Puffy Lux Mattress Construction
Engineered with the most innovative designs in the industry, Puffy Lux Mattress offers a better sleep experience than any other mattress out there. Puffy Lux is built with 4 layers of distinctive foam types, all totaling 12 inches. It also has an advanced airflow system that aids in temperature regulation, keeping you cool while you sleep. To give you a better understanding of each layer, here are the names and features of each type: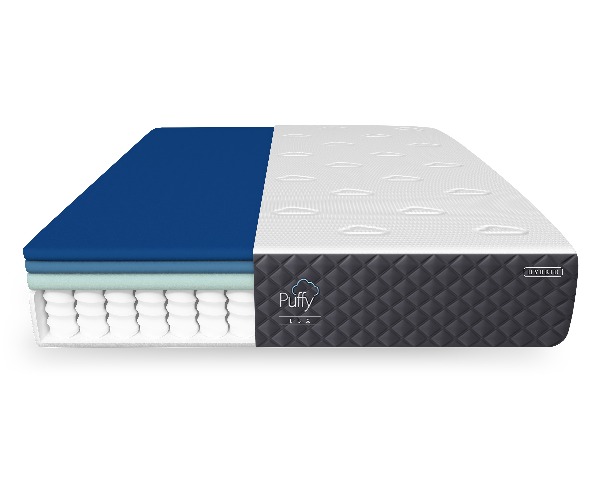 Puffy Lux Mattress Base Layer
The base of the Puffy Lux mattress is quite impressive. The cover itself is constructed with a strong and durable polyester-spandex fabric. On top of that, Puffy Lux uses its patented Contour-Adapt coils in order to provide you with good back support.
Puffy Lux Mattress Transition Layer
The transition layer of any mattress is the 2nd-to-top layer from its comfort/support foam (top being the top comfort/support layer) so it's the middle layer. The transition layer serves many purposes, but mainly to help with breathability and provide support to the comfort layers above it.
The Puffy's transition layer is made out of Puffy's "Climate Comfort Foam" which is designed to improve sleep quality. It starts out feeling soft and full, but as you get deeper in the night, it gets firmer under your body.
Puffy Lux Mattress Comfort Layer (1st)
This layer is the most important part of the Puffy Lux mattress, as it gives you that all-important support. The Plush Dual Cloud Foam here is a dual foam. There are two different layers of foam within the comfort layer. The top section is very soft and comfortable and allows you to sink right into it, especially if you're heavier than average. This is great for pressure relief and feels like it's pushing up against you so you don't feel stuck in one position while lying on your mattress.
Puffy Lux Mattress Comfort Layer (Final)
The final layer of Puffy Lux Mattress features gel-infused foam for extra comfort and pressure relief. The gel-infused foam is not quite as soft as the other layers, offering the perfect combination to provide all the right support one needs, without being too firm and uncomfortable. There's also a layer of memory foam in this layer to help maintain support over time.
5 Crucial Benefits of Puffy Lux Mattress:
1. Back Pain
Puffy Contour-Adapt coils along with its memory foam help to alleviate pressure and contour to your body, which is vital in relieving back pain.
2. Ease of Movement
Thanks to the fact that the Puffy Lux mattress has a high-density base, you will feel like you have a good amount of support without being too firm. This means that you can sleep on the Puffy in any position and not have to worry about it being uncomfortable.
3. Motion Transfer
Due to the responsive nature of the base layer, you won't be disturbed by any of the movements you make while sleeping on your mattress. This is one of the benefits of the state-of-the-art technology used in this mattress.
4. Puffy Lux Mattress Cooling
Thanks to the advanced airflow system, the Puffy keeps you cool throughout the night, especially in the summer months. This is great for keeping your body temperature regulated, which means that you'll sleep much better.
5. Edge Support
The contoured edge of the Puffy makes it a lot easier to get in and out of bed since it's curved to match your body. This is also a great benefit for those who have issues with slipping.
Now let's talk about the great things about Puffy Lux.
What's Good About Puffy Lux Mattress?
1. Easy to move on and off
Getting into and out of bed is a lot easier on this mattress, as it contours to your body shape and thus helps you move more freely on it. This is great for those who have mobility issues.
2. Breathability
The Puffy Lux mattress has been designed with advanced airflow technology to keep you cool throughout the night. This is especially important in the summer months when the air can get stuffy! The cooling and breathability are extremely beneficial when sleeping, especially in the summer months.
3. Puffy Lux Mattress Support
One of the major benefits of this mattress is that it offers excellent support, even for those who are heavier. The contour-adapted coil system along with the foam layers helps to keep your body nice and supported throughout the night.
4. Luxurious Feel
The luxury feel of the Puffy Lux mattress is very nice, and you almost feel like you're sleeping on a cloud! Not only that, but it is incredibly comfortable to sleep on, as the foam is very smooth and soft under your body. This is another reason why the Puffy is great for side sleepers.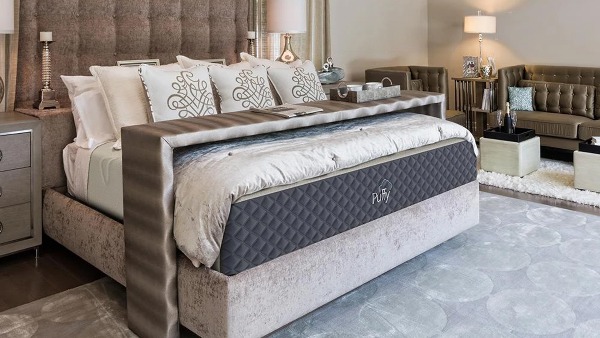 5. Machine Washable
Your Puffy Lux mattress comes with a removable cover that is very easy to wash and is machine washable. You can also tumble dry this mattress cover, which is a great way to remove any stains or odors and ensure your mattress is free of allergens.
Is Puffy Lux Mattress worth the money?
Puffy Lux Mattress can be expensive. Puffy Lux mattress is a very high-end mattress, and you should expect to pay $1,445 or more for it depending on the size you choose. That being said, the comfort and support that it offers are well worth the cost, so if you're looking for a luxury mattress, then you'll want to check this one out.
Overall
While not the thickest mattress, the Puffy Lux mattress is definitely one of the most comfortable ones to sleep on. The soft, plush feel of the cover and comfort layers, along with the fact that you can move freely, make it a real pleasure to sleep on. While it is a bit firm, it is not uncomfortable at all.
In fact, Puffy Lux mattress can be supportive and provide the pressure relief you need throughout the night. Overall, we are impressed with its construction, support, and comfort and would recommend it to anyone looking for a quality mattress that is both cozy and plush.
Click the Puffy Logo image below to visit puffy.com to place an order or for more information! Thanks for reading our review!