Five Unique Sleep Getaways in the World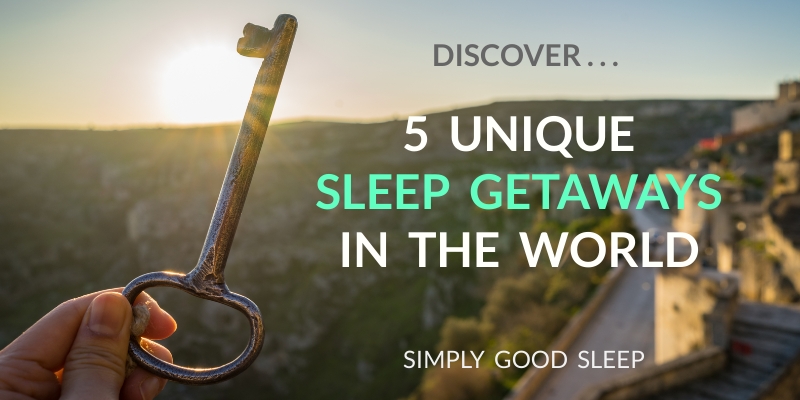 A getaway is fun and exciting, and it encourages you to break the norm by setting some time aside for yourself. Getaways allow you to leave the stress and anxiety behind. You get to have a lot of fun, experience new places and enjoy a lot of memorable moments. There are many unique and wonderful getaways to experience around the world. Here are the five most unique sleep getaways in the world – including desert stays and glass igloos.
Cave Bedroom in Matera, Italy
If you're getting tired of visiting the same old places in Italy – such as Rome and Milan – and are looking for an undisturbed area of authenticity then Matera could be what you're after. If you're the kind of person who wants an unusual and interesting place to stay then you owe it to yourself to check out the cave hotels in Matera.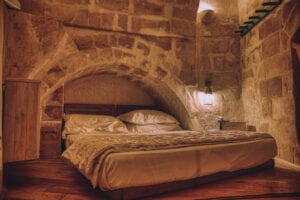 Matera in Italy is a memorable, unique, picturesque, and interesting tourist destination. Situated in the southern region of Basilicata, Matera is famous for its history, and stunning landscapes with its extensive underground cave-dwelling districts, the sassi.
Matera, Italy is an UNESCO world heritage site, and it offers an extraordinary way to enjoy a sleep getaway.
There are many hotels that offer accommodation underground there, with reasonable prices, such as the Caveoso Hotel, for example. The Hotel Sassi and Palazzo Del Duca Luxury Hotel are known for being in the city center and deliver amazing, breathtaking, panoramic views.
Take a guided tour to meet the locals and learn the storied history and local Italian culture of this fascinating place.  You rarely get the opportunity to sleep underground, so having an entire city full of hotels, restaurants, galleries, museums, churches, and cafes under the ground is a sight to behold.
Bubble Tent, Wadi Rum Desert, Jordan
Wadi Rum Desert is top of the list for any trip to Jordan. The spectacularly scenic desert has been inhabited by several different cultures across history. This is incredibly remarkable when you consider the arid conditions of the desert itself.
Consider staying in a luxurious bubble tent. These bubble tents – such as Wadi Rum Bubble Luxotel and Rais Camp Wadi Rum – give you the best night-time views of the desert in comfort and warmth. They are kept cool during the day too to provide you with the best possible conditions. Every bubble tent comes with a clear and uninhibited view of the glorious night sky so you can take it all in from your bedroom. You haven't seen the stars until you've seen them from the desert. Your hotel room is in a bubble, and the exterior is mostly made out of glass. You get access to an amazing view of the desert but at the same time you will also like the amenities. There's free Wi-Fi, and some of the hotels even have a pool.
It's a nice and fun way to enjoy your time in the desert with a very iconic, rewarding experience. The Wadi Rum protected area covers 74000 hectares and is an UNESCO World Heritage Site. Visiting this place is stunning, and due to the nature of these bubble tents, you can sleep extremely well in a rather unusual and distinctive place. It's certainly worth checking out for sure.
Leeds Castle, United Kingdom
Get a taste of the royal life when in the UK by staying in Leeds Castle. The castle has been part of the royal family for centuries. Henry VIII renovated the castle for the first of his six wives, Catherine of Aragon. The castle eventually fell into private hands and is now open to the public. There's the Maze, the Grotto, an aviary, a dog collar museum, golf course, guided tours and – of course – sleep accommodations.
Why should you go to the Leeds Castle in the United Kingdom? This is by far one of the most interesting castles where you can actually live in it for a little bit and spend the night if you want. People consider it to be one of the most beautiful romantic castles in the entire world!
There are also great activities like the Leeds Castle adventure golf, the Knight's stronghold playground, as well as falconry lessons and the Squire's Court Playground for kids. There's also quite a lot of wildlife in the region. Plus, if you are passionate about history, you will find the Gatehouse Exhibition to give you great access to the local history and see some extraordinary artefacts too.
At the Leeds Castle, you also have glamping opportunities and wedding venues in here too. Sleeping near an astounding castle is something that you will cherish for a very long time, and you should totally check it out!
Glass Igloo Kakslauttanen, Finland
Welcome to the ultimate winter getaway. If you're looking for a place to stay near Lapland (home of Santa Claus) then check out the incredible glass igloos of Kakslauttanen in Finland. The glass igloos are found at the Arctic Resort, which is divided up into the East and West village. Each village has their own glass igloos, along with separate amenities and activities.
The glass igloos offer the ideal spot to watch the Northern Lights, from August to April. Like with the bubble tents in the Wadi Rum desert, these unique hotel rooms offer an unmarred look up at the night sky.
It's a good idea to check out the Glass Igloo Kakslauttanen just because it's one of the most exciting, extreme ways to spend your night. As the name says, this is a resort where all the hotel rooms are basically made out of thermal glass, so you can see the exterior of your hotel room and the stunning views all the time. You get to feel like a part of nature, while being comfortable and away from cold.
This is a wonderful place for those of us who love peace and quiet.  For others, the resort offers great activities like sledding, riding snowmobiles, eating local food, skiing, and going on guided tours. You can also get married here, in an ice igloo. So yes, the possibilities are limitless and extremely interesting.
Traditional Ryokan, Japan
Every Japanophile needs to stay in a traditional ryokan, which is basically a traditional Japanese inn. If you're looking for the authentic Japanese experience then it doesn't get much better than these ryokans, which are found all across the country. They offer visitors the chance to get a glimpse of Japanese culture and tradition.
The ryokan have origins in the Edo period of Japan. They were rest stops for travellers and could be found along the highways. They were made from wood with communal bathing and dining, sliding shoji screens, and tatami-mat floors. They remain popular with tourists of course, but also with Japanese people who are very in touch with their cultural origins. While traditional ryokans may be a bit more expensive than a chain hotel, the experience is more than worth it.
There are some great traditional ryokans in Japan like the Ryokan Asakusa Shigetsu or the Ryokan Tanabe. Staying in a ryokan, you get to connect with nature, experience Japanese food and hospitality, while having access to self-healing amenities like onsens (or traditional Japanese spas), for example!
With ryokans, you have a very minimalist setup, and you usually are in a remote, scenic rural areas, surrounded by nature. Ryokans provide amazing places to live in and explore, and get amazing sleep, even if it's just for a few days.  Ryokans are fun, relaxing, and interesting to check out! It's a experience you won't get anywhere else!
Conclusion
A sleep getaway can always be exciting as long as you pick the right destination. These 5 destinations are amazing. Each one is different in its own right and it will give you an amazing experience and set of opportunities. Get a great view of nature, experience a deeper connection to local culture and tradition, or just stay somewhere unique and interesting with these – and many other – unique getaways.
We encourage you to give them a try and see which one you like the most. Rest assured that it's a very fun way to sleep in some different, yet very impressive locations. Take steps to prevent jet lag, and practise good sleep hygiene, when you visit these places and their surroundings, learn more about the locals and their culture, and get unique sleep experiences. It's certainly worth it!