Good Morning Snore Solution Review
Do you dread bedtime? Yes!
Sleeping in separate rooms? Yes!
Relationship on the brink? Yes!
Snoring keeping you awake? Yeeeeeeeeeeeeessssssssss!
Well, you're not alone! Snoring is a universal issue. About 50% of people snore at some point in their lives , and though it's more common in men; anybody can be affected by it.
Whether your partner is keeping you up at night, or you are the unintended culprit, snoring can be a major cause of relationship problems for many couples. Relationships can break down because of it, and your mental and physical wellbeing can suffer through the lack of sleep caused by it…
Snoring can happen for many reasons – allergens, a common cold, alcohol consumption and certain medications, to name but a few. These conditions can all cause the airway to contract as you sleep, and restrict the air passing through, leading to vibrations that culminate in the dreaded snore.
Read More: Snoring – what can you do about it?
What you need is a solution, and depending on the reasons for your snoring, Good Morning Snore Solution could be just what you're looking for…
Good Morning Snore Solution is one the latest products taking the anti-snoring market by storm, and it's not hard to see why.
This site is reader-supported and Simply Good Sleep may earn a commission, at no cost to you, if you purchase a product after clicking on a link from our site.

Welcome to Good Morning Snore Solution…
In 3 simple words it's a 'tongue retaining device'.
Related Article: Buying Guide: Anti-Snoring Mouthpieces
Recommended by doctors, this convenient and compact tongue stabilizer made from plastic dental resin is BHA-free and BPA-free and safe to use for its intended use. It's smaller than most other tongue retainers, fits easily in the mouth, and therefore, is notably more comfortable to use than other larger products – see for yourself here.
How does it work…
The A-Zzz… of Good Morning Snore Solution. This clever, tongue retaining device claims to put a stop to your snoring nightmares and promote a quality sleep for both you and your partner.
Using the tongue-retaining device is simple. Prior to going to sleep, you place the flange of the appliance between lips and front teeth. Using your thumb and first finger, squeeze the bulb while drawing the air out of the bulb. Release your thumb and finger as you insert your tongue into the bulb.
The tongue retaining device is a mouthpiece that rests on your teeth with a suction that attaches to the tip of your tongue. This helps your tongue to stay in place, preventing it from falling to the back of your throat, helping to keep your airways clear, and helping to prevent snoring.
To remove the tongue-retaining device, you gently squeeze the bulb and remove your tongue from the device.
Is it right for me?
This depends on the individual. What's right for someone else, may not necessarily be your cup of tea. But let us take a deeper look into some things to consider if you're looking to Good Morning Snore Solution to help you with your snoring habit.
Features & Benefits
As most individuals affected by snoring are aware, there are countless anti-snoring devices claiming to be the ultimate solution.
'Good Morning Snore Solution', however, is backed by in-depth research and controlled clinical testing, and can have a positive impact and health benefit on your overall wellbeing. In a randomized controlled crossover study published in Sleep Breath, 78% of subjects who used the Good Morning Snore Solution have had significant reduction and control of snoring.
With Good Morning Snore Solution, you can rest assured that the device is cleared by the FDA, Health Canada, ARTG and EEA for the reduction of snoring, and it has been scientifically proven to help!
This product is recommended by dentists, physicians, and sleep clinics worldwide.
A common complaint with anti-snoring mouth devices is that they are too big and therefore uncomfortable to sleep in. Good Morning Snore Solution offers a smaller device than the market average for a blissful slumber.
What we particularly like about this device is that, unlike the limitations of competitors, Good Morning Snore Solution is safe for dental work such as crowns and veneers and comes in a variety of sizes to suit all mouths.
No regrets – Good Morning Snore Solution's money-back guarantee offer is generous, with 30 days to try and test the product. Lacking siesta? No pennies lost!
Those around you will sleep better as they won't be disturbed by the incessant sound of your snoring.
You can share the same bed (and room) again with your partner and get your relationship back on a more intimate level.
You will personally get a better quality of sleep, by saying goodbye to the restless nights, where you were constantly waking you up, because you couldn't breathe or catch your breath.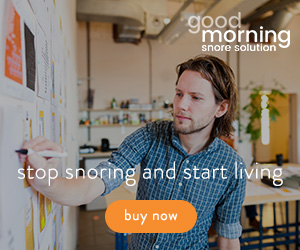 You'll feel refreshed in the mornings having had quality shut-eye and your mood will be lighter.
Your mental well-being will be restored, and you'll be able to think clearer.
And physically, your body will be much more rested, and you'll find that your get-up-and-go has no bounds.
Considerations:
As with any snoring device on the market, there are evidently some considerations that should be made prior to purchase:
If you suffer from sleep apnea, it is recommended that you don't use a tongue-retaining device but consult your doctor who will be able to find you an alternative remedy that will be more suitable to your needs.
Having a common cold can make you feel congested, and you may well find it hard to breathe through your nose. This means you can only breathe through your mouth. Good Morning Snore Solution's functionality depends on being able to breath through your nose comfortably. Your mouth needs to be closed, so you may have to temporarily stop using the mouthpiece until your breathing becomes easier.
If you have a myofascial pain disorder, such as jaw inflammation, arthritis of the jaw joints, or pain when chewing, it is advised that you don't use mouthpiece products until you have been given medical advice to the contrary.
A new way of sleeping: as is to be expected with an anti-snoring oral device, it may take some time to get used to wearing this while sleeping. Some mild soreness is not uncommon during initial use while your tongue adapts.
Q & A's…
Before purchasing new products, customers like to know what they're letting themselves in for, so here's a selection of frequently asked questions from prospective clients, and respective answers.
Is it expensive?
For those of us conscious about loosening the purse strings, this device may be a bit more expensive than some 'quick-fix' products on the market, but it is a worthy investment piece made to last.
Is it painful?
Most people don't experience pain, but some individuals have noticed an initial soreness with the gums and tongue; but in most cases, this discomfort eased after a while when they adapted to it.
Could it cause an allergic reaction?
This is highly unlikely unless you suffer from chronic allergies.
Is it compatible with dentures?
Yes, you can wear the tongue-retaining device with or without dentures.
Does one size fit all?  
Good Morning Snore Solution comes in two sizes: the adult size (the original standard) and the young adult size for smaller mouth sizes. No adjustment is needed with the Good Morning Snore Solution. The tongue-retaining device is conveniently ready to wear right out of the box.
Are they hygienic?
Yes, so long as you clean them on a weekly basis to prevent any bacterial build-up. You can do this by using a certified cleaning solution, just like you would with dentures. The certified cleaning solution can be purchased from a grocery store or your local pharmacy. Or, you can soak the tongue-retaining device, for at least ten minutes, in a mixture of cold water and toothpaste, rinsed with cold water and then air-dried.
What if I'm overweight?
As you're more prone to snoring because of your weight, the tongue-retaining device can be used and can positively help you to get a good night's sleep.
So who is Good Morning Snore Solution?
'Good Morning Snore Solution' is a company dedicated to helping relieve the debilitating symptoms of one of the most common natural phenomena known to mankind…..snoring!
The product is produced by company MPowrx, and was developed by Canadian dentist Dr. Leslie Dort.
The product was created as an alternative to the many more expensive and uncomfortable snoring solutions flooding the market.
Good Morning Snore Solution has an A+ rating from the Better Business Bureau, and a five-star rated customer service. You will be offered help and guidance to ensure your body and mind gets the uninterrupted sleep it needs so you can live a healthy and happy life.
Find out more, and check out the abundance of positive testimonials [See here].
The product comes with a money-back guarantee and ships internationally from four locations worldwide: USA, Canada, United Kingdom and Australia.
Verdict
Good Morning Snore Solution is certainly a trending product that affected couples and individuals should give a try. The price tag is a bit higher compared to other options on the market, but the device more than makes up for this with the 30-day money-back guarantee and long product life-span. Suitable for a number of dental work and teeth-related issues, this product is versatile in it's offering.
Good Morning Snore Solution IS the solution! Don't suffer with sleepless nights anymore, and don't spend another night being mad at your partner. Make mornings (and days) better with Good Morning Snore Solution!
For more information and to purchase the product for yourself, visit: Simply Good Sleep Shop.
Good Morning Snore Solution: The Compact Snore-Stopper With Outstanding Results!