Does Dehydration Affect Sleep?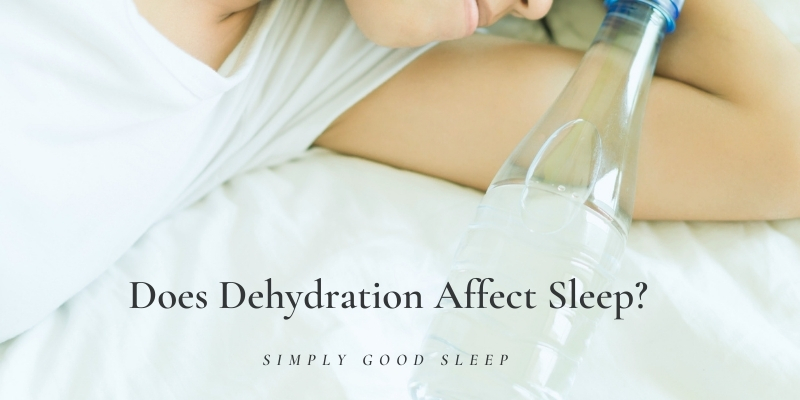 Your body needs water to survive and to work properly. For example, your body uses water to lubricate your joints, remove waste, and regulate its temperature. Water is needed for overall good health and wellbeing. If you do not take in enough water, you may experience mood swings, feel sluggish, and in general, just feel off. But, does dehydration affect sleep? Learn the answer to this question and explore ways to stay hydrated to get a great night's sleep!
What is Dehydration? How Do You Know if You Are Dehydrated?
When you do not drink enough water, you may become dehydrated. Your body would not have enough fluid to operate properly.
Your urine can indicate if you are dehydrated. If your urine is colorless or light yellow, you're well hydrated. You may be dehydrated if you are experiencing little urine or darker than usual urine.
When you're dehydrated, you may also experience the following:
Increased Thirst
Dry mouth
Dry skin
A rapid heart rate
Headaches and dizziness
Fatigue and confusion
Cramping
We have all experienced thirst and the feeling of being dehydrated. Life gets in the way and you forget to actively remember to drink water (and other fluids).
To prevent dehydration, drink plenty of fluids. Don't wait for signs of dehydration to appear.
When left unchecked, constant dehydration can cause severe problems. Talk to your doctor if you are experiencing severe symptoms or you have questions or concerns about maintaining healthy hydration levels.
Who are at risk of dehydration?
A person may be at risk of dehydration if he/she:
is sick and experiencing fever, vomiting, and diarrhea
exercises at a high intensity
is trying to lose weight
is not simply drinking enough water (and/or fluids) during the day
works or plays outdoor in hot weather
is pregnant or breastfeeding
is an elderly
has certain medical conditions, such as kidney disease
Water makes up more than 50% of your body weight.
Your body loses water every day when you breathe, sweat, or go to the bathroom.
Remember to drink plenty of water to avoid becoming dehydrated.
Does dehydration affect sleep?
During sleep, your body is mostly still. However, sleep is an active period during which your body heals and recovers. Going to sleep dehydrated will affect the way your body restores itself.
Going to sleep dehydrated can cause dry mouth and nose. This in turn can cause snoring, waking you (and your partner) up at night, and preventing you from getting uninterrupted, restful REM sleep.
Going to bed dehydrated, without having consumed enough water during the day and/or before bed may cause you to wake up in the middle of the night with a painful muscle spasm or leg cramp (Charley Horse). This can wake you up at night, and prevent you from getting the deep sleep you need.
Why do you need to be well hydrated during sleep? 
When you are asleep, breathing (especially if you breathe through your mouth), snoring, and digestion use the water in your body. Hot weather and even a warm bedroom can lead your body to lose more water through sweating.
Alcohol or caffeinated drinks without drinking enough water during the day can make you dehydrated during sleep, with the risk of experiencing painful leg cramps at night, mentioned in the previous question.
What can you do to stay hydrated?
Drink water. While plain water is best, other drinks, such as herbal teas, milk, and fruit juices add to the amount of water you get each day.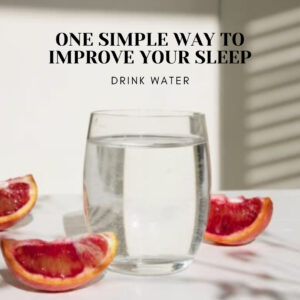 How much water should you drink per day?
Adults should aim to drink eight 8-ounce glasses of water each day.
However, the amount of water a person actually needs per day differs from person to person. For some, less than 8 glasses of water may be sufficient for them to remain hydrated. For others, they may need more.
Water content in foods count too….
Water can be found in foods such as soups, and water-rich fruits and vegetables, for example, tomatoes, cantaloupe, cucumbers, watermelon, peaches, lettuce, and zucchini.
How can you stay hydrated throughout the day?
Need hydration help? Here are some tips that can help:
1.  Keep a bottle of water with you during the day.
2.  Flavor your water. Add a slice of lemon if the taste of plain water is not to your liking.
3.  Drink water before, during, and after a workout.
4.  When you dine out, drink water. It's zero calories, it's free, and it will keep you hydrated.
5.  Drink water when you are hungry. This will help with portion control, keep cravings at bay, and help with digestion. Drinking water can be part of a healthy weight loss plan.
6.  Draw up a schedule to help you remember to drink water when you wake up, at breakfast, lunch, snacks, and supper, and when you go to bed.
How to Avoid Dehydration During Sleep
Drink enough water throughout the day from the time you get up in the morning until you retire at night. For an adult, that is a minimum of eight 8-ounce cups a day.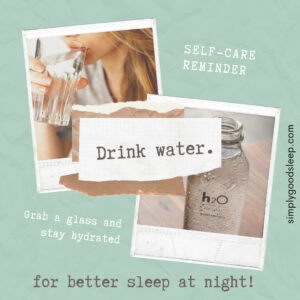 Should you drink water before bed? If you are thirsty, have a glass of water before bed.
Drinking water before bed may actually prevent you from waking up during the night due to thirst or unpleasant leg cramps.
If you find yourself making use of the bathroom at night, have your last glass of water at least 2 hours before bed.
Medical conditions – such as diabetes or an overactive bladder – and certain medications can have you getting up at night to go to the bathroom.
Talk With a Doctor
If you have any questions about how much water you should be drinking to remain hydrated – particularly if you have a medical condition or taking medications – or, if you have questions about your sleep, talk to your doctor.
Final Words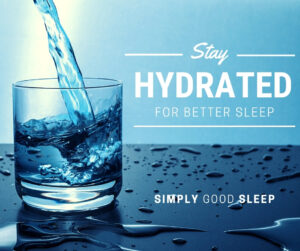 Does dehydration affect sleep? Yes!
Drinking plenty of water and getting enough sleep are both important for overall health and wellbeing. Make sure you get enough of both every day!
Stay hydrated for a great night's sleep!
Other Articles
Still think you could be sleeping better? Here are other articles about creating healthier sleep habits that we thought you might enjoy: