iSense Sleep Mattress for Couples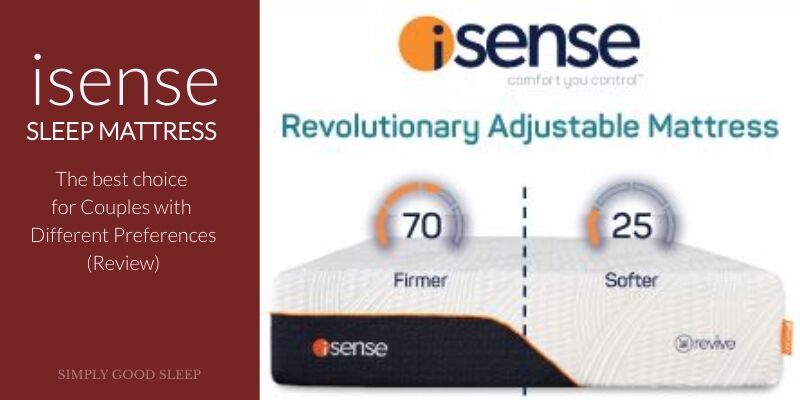 Are you having trouble finding the best mattress that suits both your needs as a couple?
Well, the iSense sleep mattress for couples is a solution you will love for as long as you have a bed partner. This mattress is built using the most revolutionary smart bed technology that redefines how individuals with different preferences spend their nights together. But, first:
The problem with sharing a bed for most couples
Studies show that most couples have different sleeping preferences and behaviors. Unfortunately, these differences often lead to conflicts and serious sleeping problems among couples. A major problem amongst partners is that one individual tends to love a firm mattress while the other prefers a softer mattress.
This is a serious concern as most mattresses are not built to take into account these differences. As a result, most couples have been forced to compromise on their preferences leading to sleeping problems. However, this must never be the case, as good sleep is essential for your overall health and wellness.
Stepping into the world of blissful sleep as bed partners
iSense sleep mattress for couples has taken innovative mattress engineering and design to the next level. Unlike traditional mattresses, this futuristic mattress allows couples to have good and uninterrupted sleep by providing:
Two adjustable comfort zones
Each iSense sleep mattress for couples is built to support dual comfort. The two sides of the mattress are independent zones, easily adjustable to suit each partner's preferences. This is enhanced by the pressure-relieving comfort layers that ensure zero partner disturbances all night.
Individualized comfort at the touch of an app or remote control
iSense Sleep mattress offers a range of 40 support settings built upon the revolutionary Comfort Control™ Technology. These settings are controlled via remote control or mobile application, and each partner gets to have EXCLUSIVE control over their comfort zone.
Do you want a softer or firmer mattress for the night? All you have to do is adjust your side of the mattress without interfering with your partner.
The freedom to choose between Refresh – Energex Foam and Revive – Hybrid Premier mattress
iSense has two distinct mattress models for couples who want to have better nights. Refresh is a luxurious all-foam construction mattress while Revive is a combination of pocket coil springs and premium graphite cooling foam. All these models have the full range of Comfort Control™ Adjustment, and the only difference is that Revive is a little more bouncy.
The value in opting for iSense sleep mattress for couples
It is vital to attain quality sleep, regardless of whether you have a bed partner or not. For couples, the odds are raised as sleeping arrangements have an impact on marital satisfaction. Since you need to stop compromising and start having blissful nights, iSense sleep mattress for couples will bring back the comforts you deserve.
The best part is that investing in this mattress comes with the extra benefits of:
180-night risk-free trial. Are you unsure of the quality of the mattress that will be delivered? iSense has you covered with a risk-free in-home trial (100% customer protection) and will accept back the mattress after 180 nights. You get a full refund. No questions asked!
10-year limited warranty*
Free standard deliveries*
*Subject to the terms and conditions by iSense.
Verdict
If you are after comfort, and convenience, the iSense mattress is for you. With its cutting-edge smart bed technology and astonishing features, you are assured of a peaceful night rest for you and your loved one.
Related bedroom decor articles: