5 Best Pillows for Side Sleepers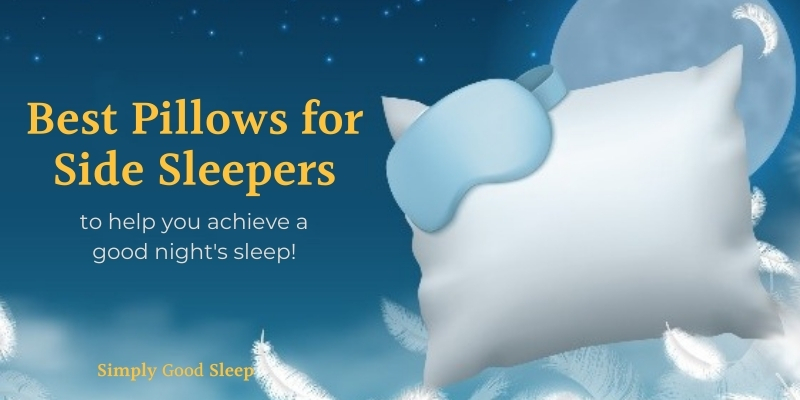 If you sleep on your side and have recently found your neck bothering you, the culprit may be your pillow. Not all pillows are created equal in regard to how they support the neck and shoulders during sleep. The misalignment of the head and body while sleeping on your side means your neck will fall out of alignment if it's not supported properly. This can easily lead to a stiff, painful neck, shoulder aches, or numbness in the arm and hand in the morning. Our list below includes five best pillows for side sleepers that are ergonomically designed to properly support your neck and head while you sleep.
Of course, you don't want to get a pillow that makes your head feel like it's in a vice grip or one that restricts your natural breathing. So pick the right pillow to achieve a healthy night's sleep!
As an Amazon Associate, we may earn from qualifying purchases. We also work with other affiliate partners and may receive a referral fee (at no additional cost to you) from the links below.  Details here.
Side sleepers rejoice! Meet Dreamy Blue Sleep Pillow! This pillow is made of revolutionary shredded memory foam, providing that perfect balance between the luxurious, soft feel of down and the firm support of memory foam. Say goodbye to stiff necks, insomnia, and migraines!
The DreamyBlue pillow cradles your head at just the perfect height to contour to your natural neck and shoulder curve and helps keep your spine properly aligned. DreamyBlue Pillow is encased in hypoallergenic, breathable, bamboo extracted rayon fabric.
You control the amount of foam you need for blissful sleep! Try as is or add or remove foam as needed. Each Dreamy Blue Pillow comes with a FREE extra bag of fill! It also comes with a lifetime warranty and hassle-free replacement.
Certipur-US certified DreamyBlue Pillow allows you to personalize your sleeping comfort for a great night's sleep!
DreamyBlue Sleep Pillow is available for purchase online.
Are you waking up with a sore neck and shoulders? The Beckham Hotel Collection pillow is for you!
Designed specifically to cuddle your head and neck in comfort, the Beckham Hotel Collection pillows provide support for your neck and head. It also works well to help you sleep better as its unique wedge shape supports your back.
Keeping it cool during the summer, warm during winter, this type of pillow is perfect for anyone who prefers sleeping on their side.
Coming as a set of two pillows, Beckham pillows are filled with 100% poly gel fiber and encased in 100% cotton covers.
Thanks to its innovative no-shift technology, the Beckham Hotel Collection pillows also ensure your neck stays in the correct position and never ends up in a painful or uncomfortable position.
The pillows are dust-mite, mold, and mildew resistant. In addition, the pillows are chemical and allergen free, great for those with allergies or asthma. Beckham Hotel Collection pillows ensure perfect comfort and support all night long.
Last but not least, the Beckham Hotel Collection pillows feature fade and stain-resistant technology and is also machine-washable, making it an ideal choice for anyone who is traveling.
It also comes with a generous 30-day satisfaction guarantee. Available in two sizes and white color, the Beckham Hotel Collection pillow is the perfect sleep accessory to get comfortable and wake up with a great feeling!
Beckham Hotel Collection is available for purchase online.
No matter what your sleeping preference is, there's a good chance you're always searching for something that will help you get a good night's sleep and feel better the next day.
Nolah boasts a proprietary air foam to deliver a pillow that's cooler on your skin and more breathable than other pillows. Thus, Nolah is as comfortable as it is functional.
The pillow is encased in a cooling phase-change Outlast® cotton cover. The cooling Outlast pillow cover is cool to the touch, absorbs excess heat, so you don't sweat during the night for a comfortable night's sleep.
The AirFoam pillow provided by Nolah provides an excellent blend of support, comfort, and flexibility, easily conforming to your head, neck, shoulders, and spine, to provide a comfortable night's sleep.
Further featuring a comfy size and height that enables you to sleep easily, this pillow is the one that you've been looking for to get comfortable and get a good night's sleep!
Nolah Air Foam Pillow is available for purchase online.
Sleep & Beyond's 'My Woolly Side Pillow' comes as premium 100% pure natural and organic British shropshire wool filled pillow with 100% cotton sateen, 300 thread count pillow case.
My Wooly Side Pillow can be adjusted to meet your comfort needs while you sleep. Simply add or remove woolly puffs to achieve your ideal loft height or support level.
Whether you prefer to sleep with a smaller or larger pillow for your head and arms, this pillow can follow you anywhere.
The pillow is ergonomically contoured, adapts to your needs and works with your body so that you can find the right comfort for your side sleeping.
My Woolly Side Pillow is machine-washable, is soft and comfy to touch, breathable, and won't smell. It's not only soft but can also keep you warm in the winter and cool in the summer while you sleep.
With its natural wool fill and cotton cover, My Woolly Side Pillow is an excellent all-natural solution for your sleep needs. In addition to being naturally hypoallergenic, natural wool repels dust mites and wicks away moisture for a dry sweat-free, healthy sleep.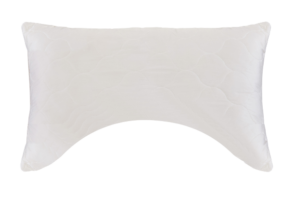 Sleep & Beyond's My Woolly Side Pillow is available for purchase online.
Designed for side sleepers, Amerisleep Dual Comfort Pillow boasts a revolutionary Bio-Pur foam material with cooling channel technology to help you get a cool night's sleep all night. The responsive open cell structure of the pillow can contour to your head and neck shape to relieve pressure while maintaining its breathability.
Amerisleep Dual Comfort Pillow offers two sides for total comfort and support: soft on one side and firm on the other.
The firm side is designed with side sleepers in mind. The more dense foam on the firm side provides more support for your neck and spine to keep your back straight and relieve pressure down your spine.
The soft side of the pillow appeals to many side sleepers because it makes it easier to run an arm underneath the pillow.
Importantly, this pillow comes in two heights (or lofts): low loft (five-inch thick) option or mid-loft (six-inch thick) option. Amerisleep suggests the mid-loft option for side sleepers. This combined with the firm side makes the pillow very adaptable and appealing to side sleepers.
American Dual Comfort Pillow comes with a ten-year warranty.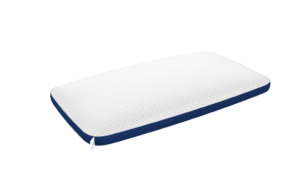 Amerisleep Dual Comfort Pillow is available for purchase online.
Final Words
If you sleep on your side, there's a pillow out there that is just right for you to help you sleep better. Together with good sleep hygiene, these pillows wlll have you sleeping in no time!
Updated August 27, 2021
Other articles that may be of interest
Sleep Basics
Buying Guides