Gift Guide for the Person Who Loves Sleep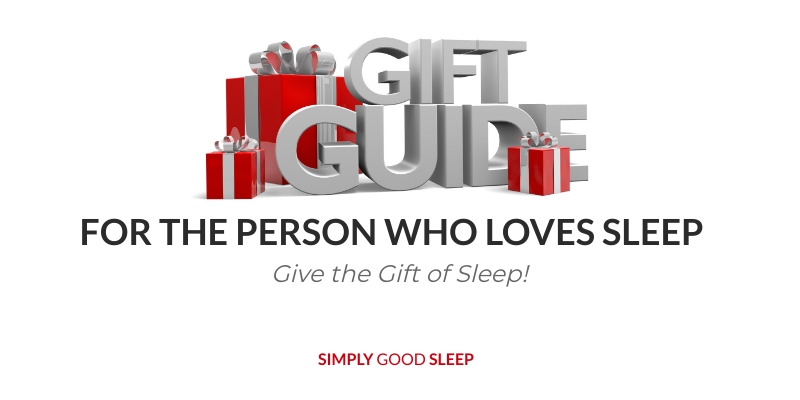 (Updated). Good sleep is important to maintaining an overall healthy life. Give your loved ones the gift of sleep! Check out the sleep gift ideas in this gift guide and gift them one of these unique and thoughtful gifts to show you care about them getting the best sleep. No matter who you're shopping for – even if it is for yourself – we've made it easy to find the perfect gift!
We feature products we think you'll love as much as we do. As an Amazon Associate, we may earn from qualifying purchases.  Details here.
Transform your bedroom into a sleep sanctuary with This Works Deep Sleep Pillow Spray!
If you are on the lookout for something unique, natural, and therapeutic to ease you calmly into sleep then this pillow spray is your best bet.
It is a super blend formulation of sleep-inducing lavender, chamomile, and vetivert.
A spritz of This Works Deep Sleep Pillow Spray under your pillow at bedtime will calm both your body and mind. This spray will reduce anxiety, improve your sleep quality, and have you wake up feeling relaxed and refreshed.
This Works Deep Sleep Pillow Spray
Does the sound of waves give you a relaxing feel? or do you fall asleep faster to the sound of the rainfall?
Then this unique sleep machine scientifically engineered and designed to promote a deeper sleep, relaxation, and general sense renewal should be on your list.
This small, sleek and portable machine has Adaptive Sound technology, which automatically adjusts to detected intrusive background noise for uninterrupted peace and relaxation.
Sound + Sleep machine is recorded with natural HD sounds that go up to 30 minutes and eliminate all audio repetition to give a wide range of natural real-life type sound from different environments to help you relax and drift you off to dreamland.

Adaptive Sound Technology Sound + Sleep Machine
Do you have noisy neighbors or a loud HVAC system that makes getting uninterrupted sleep difficult? Some people turn to noise-cancelling headphones to sleep at night, but what about noise-generating ones?
Sony has created a brand of sleep ear buds that generate sounds to help you sleep.
With full noise-cancelling and ambient sound features, Sony earbuds will help you block out unwanted external noise and drift off to an undisturbed sleep, day or at night. The buds are light and small to fit comfortably for long periods of time. Just think of them as being a white-noise machine you can plug into your ears.
Tune out the world and relax, and tune in to a night of deep, restful sleep with Sony Noise-Cancelling Wireless Earbuds.
Sony Noise-Cancelling Wireless Earbuds
Quility is an all-natural heavy durable blanket that will provide you the feeling, warmth, and comfort of a gentle hug all through the night. The Weighted Blanket works similar to swaddling a baby. It offers a hugging sensation that gives users instant relief from anxiety and stress, improves relaxation, and promote quality deep sleep.
One of the key benefits of using a weighted blanket like Quility Weighted Blanket is that it fights against "sensory overload". As you go about your day your senses will pick up all kinds of information.
Sensory overload is basically when your brain picks up too much information. That feeling you get when too much is happening at once is sensory overload.
Weighted blankets offer a Deep Touch Pressure Stimulation that basically stimulates pressure points across the body. Stimulating pressure points relaxes the brain and body, reduces cortisol levels (stress hormone), and increases serotonin levels (happy hormone). It all adds up to a great night's sleep!
Quility Weighted Blanket & Removable Cover
The NorbSLEEP Light Bulb, sets the tone for a great night's sleep as it is specially engineered to provide you with a more comfortable, soothing, night-time light.
Use the NorbSLEEP Light Bulb in the rooms, including your bedroom, that you spend the last 90 minutes of your day.
Go about your bedtime routine as you normally would and when it's time to go to bed, turn off the lights. Your body will have begun getting ready for sleep before you turned off the lights, making it easy to fall asleep.
Fall asleep faster and stay asleep longer with NorbSLEEP Light Bulb!
NorbSLEEP Light Bulb
Buy Now
Need a unique gift? How about a subscription club that delivers sleep-promoting products right to your door every single month?
This self-care subscription box is a great way to shower your best friend, a loved one, or anyone special in your life with the gift of self-care and relaxation.
The box comprises of 6 to 8 high-quality full-sized wellness items and is carefully curated by therapists to help promote self-care, reduce stress, promote relaxation, and increase happiness, all conducive to getting the perfect night's sleep!
TheraBox Self Care Subscription Box
Unwind and relax with Radiance Nebulizing Diffuser. The Radiance nebulizing diffuser is a wonderful way to add a modern chic style to your bedroom with its elegantly stylish design and a cool-mist technology that uses no water, no heat, and no plastic.
This whisper-quiet superb aromatherapy diffuser uses only pure essential oil and, with a volume switch, you can control exactly how much essential oil to diffuse in the air, making spaces in your home truly tranquil and relaxing for a deep, restful sleep.
Radiance Nebilizing Diffuser is portable for bedroom, home, office, spa, and baby room. It also makes a perfect gift idea for friends and family who love aromatherapy! Make Radiance Nebulising Diffuser a part of your better night's sleep tonight!
Organic Aromas Radiance Nebulizing Diffuser
 
Under Armour is known for creating
excellent sportswear, and now they've entered the world of sleepwear.
Athletes put
themselves through strenuous physical activities and that leads to soreness and pain.
Under Armour have teamed up with Tom Brady of the New England Patriots to create the Under Armour Athletic Recovery Sleepwear, focused on optimizing athletes' peak performance through recovery and sleep.
Under-Armour Sleepwear are made with an insanely soft modal knit fabric, are lightweight, and provide complete comfort.  The pattern inside the fabric uses bioceramic technology that absorbs infrared wavelengths emitted by the body and reflect them back to increase recovery time and promote healthier sleep.
All in all, Under Armour Sleepwear helps muscles and joints to regenerate faster for a better, more comfortable night's sleep.
Under Armour Athletic Recovery Sleepwear makes it a great gift idea for a professional athlete like Tom Brady who is seeking to shorten their recovery time in between workouts and even for an average person searching for a better night's sleep!
Under Armour Sleepwear
Do you feel like there are days when you don't have a clear mind? How often do you feel forgetful? How about at sports or work – do you feel you're not performing well enough? Do you sometimes suddenly feel dizzy or lightheaded?
In this book, New York Times bestseller, Matthew Walker, explains why we sleep is important, the positive effects of sleeping to your health, body, and mind as well as the negative effects of not sleeping enough will do to oneself.
Furthermore, he breaks down why it is important to sleep, the health benefit it serves, and why we might suffer a devastating health consequence when you don't get enough sleep.
This book deserves a place on your night table!
'Why We Sleep: Unlocking the Power of Sleep and Dreams' book by Matthew Walker, PhD
The worst part of sleeping is, of course, having to wake up. What if you could wake up naturally and easily? What if you could wake up without being jolted awake by an annoying alarm? Well, that's what the Phillips Wake-Up Light Alarm Clock with Sunrise Simulation offers.
If your days begin before the sun comes up, then you don't have to miss out on that experience when you have Philips Wake-Up Light Alarm Clock. Wake up naturally and say hello to happier mornings with the sunrise simulator!
The alarm clock, inspired by natural sunlight, gradually gets brighter and brighter over half an hour before the alarm goes off. In fact, it becomes more and more intense to stimulate your body into waking up comfortably and naturally. The gentle beeping of the alarm caps off a pleasant waking up to get you refreshed and ready to greet the day!
Philips Wake-Up Light Alarm Clock with Sunrise Simulation
The Pure Enrichment Mist Aire Cool-Mist Ultrasonic Humidifier, as the name implies, uses ultrasound or high-frequency vibrations to product fine water mist which is released to add moisture to your bedroom for up to 16 hours.
Humidifiers, like the Pure Enrichment Mist Aire Cool-Mist Ultrasonic Humidifier, with its sleek design, is a perfect fixture for your bedroom (and your home).
This whisper-quiet, premium device works wonders to improve congestion and dryness, allergies, dry skin, and wrinkles. It also helps you breathe better, and helps you sleep peacefully through the night for a great night's sleep!
The Pure Enrichment Mist Aire Cool-Mist Ultrasonic Humidifier for the Bedroom
Say hello to Amazon Echo Dot! Amazon Echo Dot can be really helpful. Did you know that your Amazon Echo Dot could help you sleep at night? There are several little things that an Echo can do to put you to sleep faster and ensure you sleep deeply and soundly.
One way the Echo helps is through guided meditation. This guided meditation relaxes your mind and prepares it for sleep.
Let go of all the stress of the day so there's nothing stopping you from sleeping. Amazon Echo actually has some guided meditation programs built in. Just ask Alexa to open Guided Meditation and let yourself be lulled to sleep.
Speaking of being lulled to sleep, Echo can help people who sleep better when it's raining at night. Alexa is able to play rain sounds on request too. The sounds continue until you tell Alexa to stop. However, you can choose to set up a dedicated time to stop audio if you'd rather not have the rain fall all night long.
Get Amazon Echo Dot for a better sleep tonight!
Amazon Echo Dot
Sleep masks are a great idea. They're like little curtains for your eyes. They block out the light and prevent distractions and make it easier to fall asleep for a deep, restful sleep, whether you sleep on your back, stomach, or side.
The Manta mask is the ultimate in sleep masks. Manta offers total darkness, no eye pressure for supreme comfort, seamless adjustable fit, and a stylish design with soft, top-grade, breathable, and durable materials.
Say goodbye to the light – day or night – with the Manta Sleep Mask!
Manta Sleep Mask
Conclusion
A great way to show how much you care and appreciate your loved ones, friends, colleagues, and mentors is by giving them a unique sleep gift from this gift guide to help them get the much-needed sleep they deserve. Prove that thoughtfulness and generosity is alive and well by gifting your loved ones a sleep gift!
Originally published August 8, 2020
Other pages/posts for more amazing sleep gift ideas